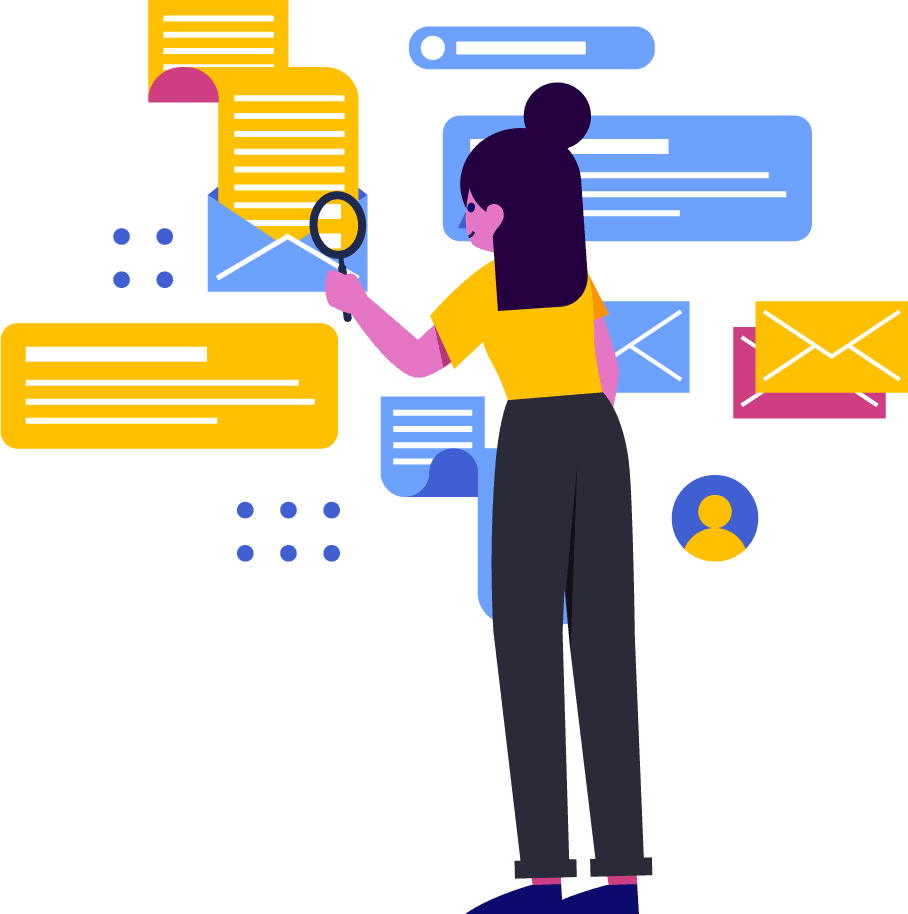 If you've noticed your site's domain authority is dropping in organic traffic, then perhaps, it's time to build links. Link building can be a tiresome process as there are many approaches to it and you still need to get valuable links. Speaking of valuable links, you cannot speak about the concept of niche edits.
Niche edits are one of the most creative ways to build links as opposed to the more common guest posting. The term "niche edits" is quite weird as it doesn't exactly say much about link building. However, it is very much related to link opportunities and serves as a step to enhancing your website's rankings.
In this post, we'll walk you through the ins and outs of niche edit links and how to use it in your managed link-building program. Most especially, you'll get to learn more about your best available option – hiring a link-building agency with an inexpensive link campaign offer. Read on to the end to get high authority outbound links coming into your site and bolstering its link juice.
What is a Niche Edit or Link Insertion?
A niche edit, also known as a link insertion, is the addition of a link to an already-released online piece of content. It is a link-building process that requires buying backlinks from existing content on another site.
To get an easy picture, niche edit links are just like the process you may know for building backlinks. The process of getting niche edit backlinks is to reach out to a site owner in a quality niche. When you contact them, you can then appeal to have them link posts to your most relevant pages.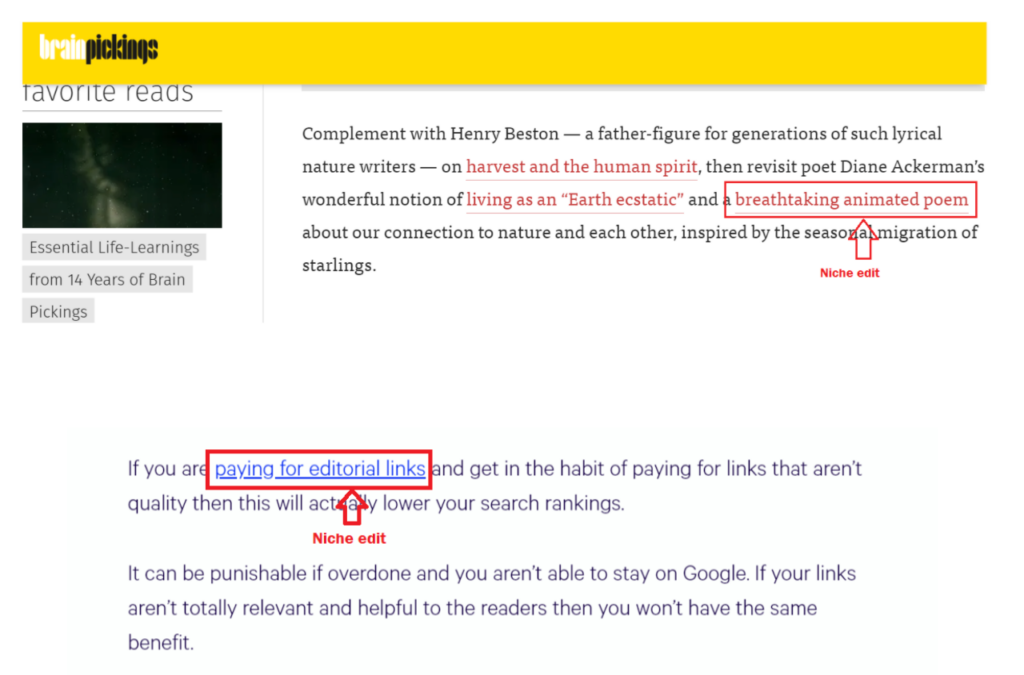 As you can see, this is neither a novel approach to link development nor is it necessarily risky. Some niche edit links are secretly put on existing articles without the knowledge of the site owner (these are typically links on site who credentials have been compromised). While this is merely dubious, others are gained in a more honest fashion.
On the other hand, not all niche edit services are manually performed, and some may even harm your website in the process. When trying to figure out "niche edit" link building, it helps to know where they first appeared.
There has been no shortage of innovation or fresh approaches to link-building throughout its existence. It was quickly realized that being put in contextually appropriate content was less crucial than the credibility of a site or page. This resulted in people mass-adding more links to sites without giving them much consideration to ensure they were relevant.
Benefits of Niche Edit Backlinks
There are many enticing benefits to using niche edit backlinks for your SEO campaign enhancement. Here are just the three primary benefits of quality niche edit link building:
1. A Means of Business
Website owners are realizing that they can supplement their income when they build niche edits. Because niche edits can improve rankings, these will typically result in a better ROI for your business.
There were fewer outreach email campaigns for link-building to compete with several years back. You could get connections from people for nothing. Today, it has become clear that one can make money by adding links to their materials. Hence, no website owner would wish to add links without getting compensated.
If you work on your own niche edit link building offering, you can as well start making money in the industry. With relevant content on your site, you can get paid to include curated links by other website owners.
2. Lightning-Fast Growth & Massive Scope
In comparison to a link-building strategy, such as guest posting, this technique is extremely efficient. There's no need to generate fresh material to give the website, and there's no special content required to entice linkers. When you place cash on the line, people take notice and you get connections to many sites much more quickly.
Giving someone money is much simpler than developing an effective link-building strategy to win their affection. You can relax knowing that you don't have to spend hours crafting the perfect marketing email. You'll also save yourself the stress of promoting your stunning new piece of content. By the way, following these processes, you still run the risk of having neither of those things work.
3. Great for a Difficult Established Page
With niche edit links you can create curated backlinks to those otherwise inaccessible sites with ease. For example, there are some of your pages may be less striking but still succeed in bringing in the kind of customers you're after. It could be because they provide a necessary service or provide the necessary information.
A conventional, white-hat marketing effort for those sites is likely doomed to failure. After all, who in their right mind would connect to your service page in the spirit of altruism? It won't go over well unless you're already friends with them or you have some sort of influence.
Guest Posts vs Niche Edits
Niche edit link placement offers a different value proposition when compared to guest posting. In guest posting, the website owner may reach out to authors on relevant websites to have an original piece released. You can increase the number of your link placements by inviting a website owner to write guest posts on your blog. In exchange, you'll get a free link placement back to your own article.
By contributing articles as guest authors, website proprietors can gain exposure to a larger audience. They can also position themselves as experts in their field by discussing a broad range of relevant subjects.
The process for making guest posts includes making contact with a website proprietor to inquire about publishing a guest post. Afterwards, come the agreement between site owners. Now, you put together the article. You then verify its acceptance for other site owners before publishing. You'll keep watching to see if the content has been released and the hyperlink has been added by the site proprietor.
Guest writing takes a lot of time and effort. Unfortunately, there are multiple points in the process where site owners can choose not to publish an article. This means you'll have to start over and reach out to new site owners to see if they'll accept your article for publication.
Furthermore, the term "guest posting" refers to the act of releasing a brand-new article. This indicates that the page containing your guest post hyperlink is new and has not yet been established. It may be some time before Google's bots scan the site and your backlink. As seen, however, quality niche edits can bypass all of that.
What Makes Niche Edits Distinct from Guest Post Backlinks
As we've mentioned, you just need to reach out to a site's editor and request a connection be added to existing articles. That's the keyword for niche edits – you work with an existing blog post!
All that is required is an arrangement between you and the proprietor of the target website. You'll discuss whether or not they will incorporate a hyperlink to your site. No new content is created and no authentication procedure is required to decide upon an appropriate article title. There is also no writing or revising back and forth required.
Site proprietors may find it beneficial to give niche edits so that their visitors can fix any broken links they may find on the site. Broken link building is the practice of alerting website owners to their faulty connections and providing instant, painless fixes for them.
How To Get Niche Edit Links
There are three major ways to get powerful links when you use niche edits. Here are the ways to acquire niche edits:
You can find the email addresses of high-quality websites and persuade them with a compelling email to grant you contextual backlinks. This is the simplest and most labour-intensive method to acquire links and boost link juice.
This method places heavy reliance on the goodwill of the site proprietor and the quality of your own site. The success of this strategy is highly conditional on a number of factors. Some of these factors are the competitiveness of your niche and the relative sizes of your website. The domain rating of the website you're requesting a niche edit from, and the quality of the recipient's day also play a role.
Manual marketing for niche edits building is a surefire recipe for frustration. This is because the time spent crafting carefully worded, individualized letters will far outweigh the return in the form of high-quality backlinks. However, if you can give something in exchange, like an outbound link to your own site, you'll have a much better chance of success.
Exchanging Goods and Services
As an alternative method of acquiring specialized changes, bartering is a viable option. If your name has a high ahrefs domain rating (say, 20 or more), you can approach other sites with an offer.
You'll have a much better chance of receiving an answer and a broken link fix if you take this strategy. You'll be providing something of worth in exchange. However, if your website is brand new, the other site proprietors may not see much value in exchanging links with you.
Hiring a Niche Edit Service
There are some website proprietors who find that the best method to obtain high-quality traffic is to purchase links. You can buy niche edits of a few niches or hire some SEO services to do all the niche edits work.
The best method to do niche edits safe link building is to hire real websites. Such agencies should be able to show you evidence of previous results and compliance with Google guidelines. Hence, look out for the service you pick by observing closely the information displayed on page.
Use niche edits services such as the ones provided by Instalinko, which has a proven track record and positive client evaluations. This can increase the likelihood of successful outcomes and boost link velocity on search engines. You can, most especially, reach out to Instalinko.com to handle all link-building queries.
The Best Niche Edits Links and Services You Can Buy Online
Niche edit links are likened to the process of broken link building and you're typically following the same route. Though you may choose to do it manually, why not carry out niche edits white hat with a perfect service?
A service like Instalinko.com would give you the best links priced reasonably from relevant websites. You can easily have links from real websites linking to your own drip feed. Furthermore, there are search engine algorithms to help you keep track of things like anchor text diversity, drip feed interactions, etc.
With Instalinko.com, buying links is not a crime because everything works with the right system for real websites. You would never get hacked links or links from foreclosed sites, whatoever. So if you're ready to do what's right for your site, reach out to Instalinko.com at once!